Overview
Kalike, an associate organisation of Tata Trusts, has been working in North Karnataka since 2009. The pulse of our vision is to ensure holistic development and sustainable transformation that span wide ranging areas of rural development and enterprise.
Our interventions employ an integrated approach encompassing education, health and livelihood, with the intention of positively impacting overall human development. To realise long term change, we empower stakeholders, strengthen institutional framework, grow community action, organise alternatives, train capacities at the individual and community level, consult experts, forge synergic partnerships, facilitate field and exposure visits, liaison between the individual and state, among a number of other roles demanded by emerging challenges.
Deeply anchored in grassroots, our initiatives have met with overwhelming support from the community as well as government. In Kalike's journey, we have had our learnings that have constructively improved our intervention framework and outreach strategies.
In 2015, we launched 'Mission 2020' that, coupled with 'Kanya Sampoorna', has tied together our earlier efforts. Kalike is not only ready to scale up but also carry forth this core developmental work in other geographic regions. Kalike's interventions significantly impact critical stages of an individual's life. They comprise:

Early Childhood Development (ECD)
All-round physiological and psychological growth of children aged 0-6 years through age-specific interventions.

Education
Long-term transformation by building on each stage of a child's development (with a special focus on the girl child).

Water, Sanitation and Hygiene (WaSH)
Access to safe drinking water and improved sanitation practices through a community managed system.
Livelihood
Agricultural sustainability through knowledge sharing and increased participation to improve the lives of community farmers.

Skill
Development
Employment opportunities and building confidence amoung youth and women for better livelihood options.

New
Interventions
Elderly care, Yadgir's first community radio station and disaster releif-rehabilitation.
Outreach
We actively work alongside the Department of Women and Child Development (DWCD) and Anganwadi Centres (AWCs) offering intensive capacity building to ensure health and education of children from 0 – 6 years of age. We do so by employing a two-pronged approach that focuses on pre-school education and nutrition. The former has grown beyond the range of Yadgir, where the Early Childhood Education (ECE) intervention was honed, and is now being scaled to five other districts under jurisdiction of the Hyderabad Karnataka Region Development Board.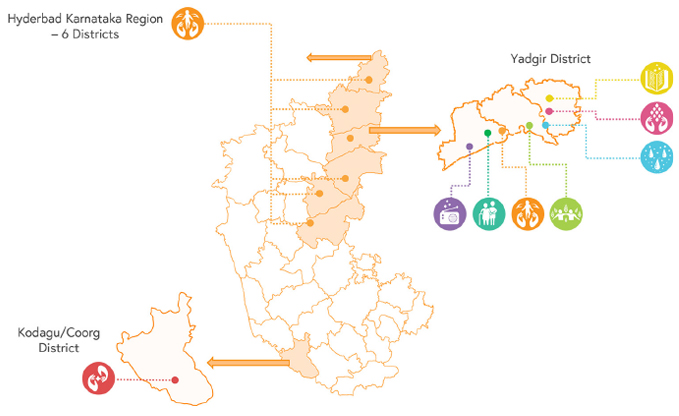 ECD
Education
Livelihood
Water, Sanitation
and Hygiene
Skill
Development
Elder Care
Disaster Relief & Rehabilitation
Community Radio